You might think that gaining knowledge online is very easy. But if there is so much information on the Internet – how do you find a credible and reliable source? Training platforms such as Webinar Universe can help.
Training platforms
Learning promotes growth, which in turn helps build confidence. When a person has the desire to learn, they make rapid progress, which leads to further success. With the skills acquired, a person with a thirst for knowledge can also satisfy their emotional and spiritual needs. Development is a natural direction for any person, if their mind is open to knowledge and ready to adapt to get the most out of it.
The process of learning, understanding and acquiring skills has a positive effect on self-esteem and self-confidence, as it provides the necessary fuel for his creativity. When a knowledgeable person meets other people in his life, he realizes that knowledge and skills have always been an asset that only grows in value over time.
A training platform is where you can find courses, webinars or study sessions, to be listened to in the comfort of your home. The only required resources to have are digital media such as a laptop, cell phone or card, and an account on the Internet and training platforms. Access to an online training platform allows many people to broaden their horizons, including those who can't count on in-person courses.
The online platform offers unique opportunities for those who are too busy to get a stationary education. The advantages of online learning are that it is accessible, affordable, timely, personalized and flexible.
Choosing a platform
Choosing a training platform is a bet on a younger form of learning than a regular classroom. Recently, training platforms have become very popular, not only because of the high demand for education, but also because they are convenient. Young people, in particular, prefer to study at home via the Internet rather than attend regular classroom training. What's more, the purpose of an online platform is to save the learner's time – they don't have to adjust their schedule to the time when the training takes place.
One of the great advantages of online training is also the wide range of materials available and the democratic access to them – the courses are available to residents of large cities, small towns and villages, meaning that they can be used regardless of where you live. The problem with online training comes from the abundance – the offer of courses, articles, webinars, video blogs, analysis, ebooks, packages and absolutely everything on any topic is huge. That's why choosing the right training can be difficult if you don't know a good platform.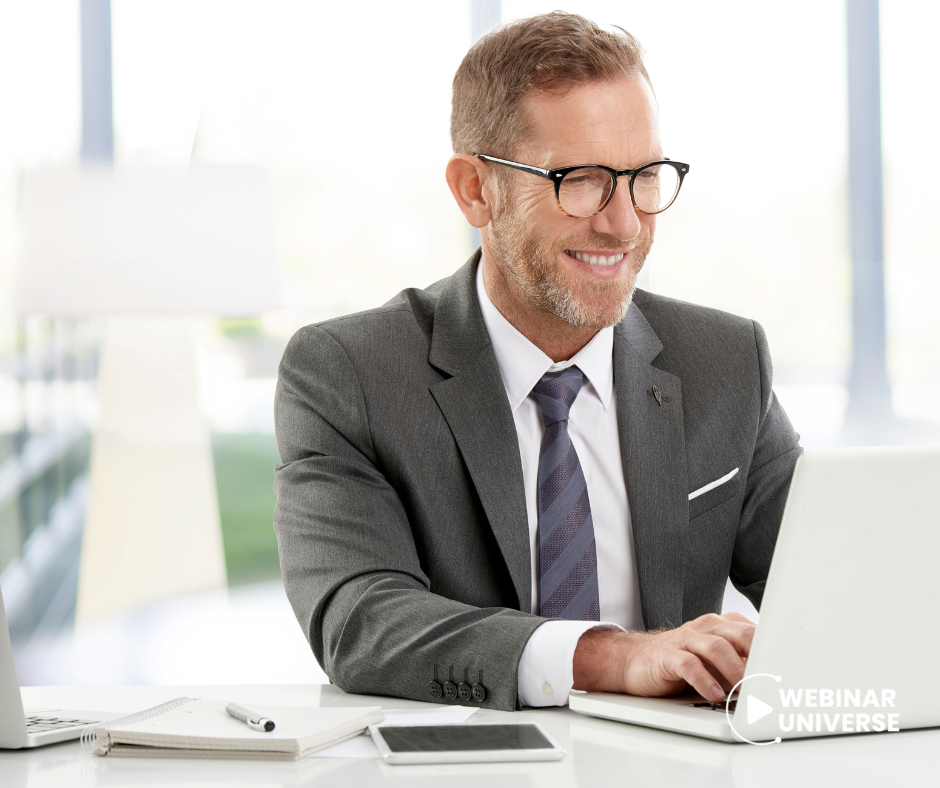 Webinar Universe – a modern platform
Learning through webinars also has many advantages. First, the training sessions are concentrated in one place. Webinar Universe's service contains many different types of materials that are available at a glance. In this way, you can save time and money by purchasing ready-made webinar training packages on a variety of topics, from investing in cryptocurrencies to creating effective Facebook marketing campaigns.
Webinar Universe's platform is a great place to start learning how to make money online. Working online, investing in cryptocurrencies, running your own business – these are just a few ways to make tangible cash online. Webinars prepared by experts can be a great introduction for people who want to quit their jobs and start building their own business.
Scope of topics
The goal of Webinar Universe's training platform is to provide each student with high-quality training videos at a level that matches the interests and knowledge they already have. Anyone interested in their own development can become a customer and a student of Webinar Universe. The platform offers a variety of courses covering such areas of knowledge as Internet marketing, investing in cryptocurrencies, how to do business on the Internet, programming, investing in securities and Forex, operating graphic programs or planning a household budget.
Both beginners and those experienced in a particular field can find their place on the Webinar Universe webinar platform. The former will certainly be interested in learning the basics, while professionals will have the opportunity to participate in expert webinars – news, analysis, courses led by experts in various fields from the business world.
Webinar Universe webinars are known as a simple method of acquiring training materials. For this reason, many positive reviews of this product can be found both online and in trade magazines. It seems that the majority of people who purchase webinars are very complimentary about them.
– The training material itself is of very high quality, I managed to assimilate everything, even though I knew nothing about programming beforehand
Nick: Nicolas
– I don't do very well with the Internet, but everything is in one place, so I don't have to deal with technical issues that I don't know about. In addition, the content is clear
Nick: David
– If anyone wants to know something before buying, the vendor will explain it and everything seems to be in order. Very interesting webinar, I found a lot of information on topics that I was curious about
Nick: Adam
– I've seen similar webinars, they may have been around for years, but since there are still many on the market, you can't deny their effectiveness. You get what you pay for – a pretty good deal
Nick: Franko
Webinar Universe is a unique solution for everyone, combining practical and theoretical learning. The site provides access to video materials of different levels of difficulty as your skills progress. The biggest advantage of this type of product is that you pay less for it than for a regular online group course. This allows you to start learning quickly and gain knowledge when you have time.
Webinar Universe – Editorial opinions
Webinar Universe offers a variety of webinars on Internet marketing, investing in cryptocurrencies, how to do business online, programming, investing in securities and forex, how to use graphic design programs or how to plan a household budget. The webinars are prepared in Basic, Advanced and Professional versions, so everyone on the Webinar Universe platform will have access to the appropriate level of material, regardless of skill. Beginners can learn the basics, and when they have enough knowledge, they can access professional webinars – for example, advanced courses in programming, analytics, training for experts in various fields.
All purchased materials are available immediately after logging in with a personal code. In this way, you can save time and money by purchasing ready-made webinar training packages in various fields. Webinar Universe is a great place to start if you have a goal of achieving professional success. Programming, investing in cryptocurrencies, operating graphics programs – these are just a few ways to develop useful and profitable skills.
All materials published on Webinar Universe are prepared by experts and provide a good introduction for those who want to talk to specialists in a specific field. Each webinar prepared is supervised by a person responsible for the quality, correctness and value of the training, as well as adjusting the level of participants.